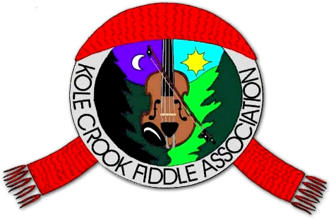 Welcome to the home of the Kole Crook Fiddle Association!
Upcoming Events
Don't forget to check the Aurora Fiddle Society calendar for fiddle events coming up around Yellowknife.

Our Credo
The Kole Crook Fiddle Association exists for the following reasons:
To do our utmost to preserve and promote the art of fiddle-playing – especially in remote Northern communities where there are no qualified fiddle teachers – and to bring joy through music; specifically (though not exclusively) fiddle music;
As much as possible, within our own organization and in our dealings with other people and organizations, to follow the legacy of Kole himself: that of humble, selfless service to everyone; young and old, high and low alike. To be kind and giving; generous and caring.
To tap our own resources and those out there – human, material, financial, etc. – with the aim of bringing out the best in people: children, youth and adults.
To help them realize, through fiddling, that they have many "hidden gems" of talent which they can share with the world and thus be bringers of joy; people who play a meaningful role in society.
To thereby inspire them to dig for other "gems" within themselves; to likewise develop and share them with the world. They they will be happy and productive members of the human family; playing their part, as much as possible, in the advancement of the human race.
Who was Kole Crook?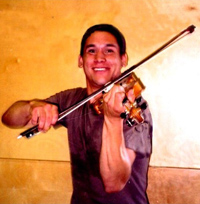 Kole Lucas Darryl Crook was born March 7, 1974, to Clell and Abby Crook and was raised in Hay River, NT, one of five children. Kole took up the fiddle at age 13 when his father Clell gave him his father's fiddle. Clell recounts that, at first, the sound of Kole's fiddling sounded like "pulling a cat through a steel pipe". However, Kole was determined. Hay River fiddler Richard Lafferty helped him with his music as did Ft. Resolution fiddler Angus Beaulieu and soon, Kole was playing with the best of them. Always in demand for dances and special events, Kole traveled all over the Northwest Territories and beyond, bringing joy through his music.
Kole was known for his gentlemanly ways and his selfless generousity of spirit. Deeply religious, Kole was a devout Christian who really lived his faith. There are many stories about Kole, how he would share himself, his money and means with whoever might need it. He spent a lot of time with the elders and absorbed much wisdom and insight from them, becoming wise beyond his years.
In his early twenties Kole traveled widely with Andrea Hansen, co-founder of Strings Across the Sky, going from community to community teaching fiddle to young northerners. Many up-and-coming young fiddlers in the north credit Kole with getting them started.
Kole spent the last six months of his life with his girlfriend Stella in Wrigley, NT, and took the opportunity to introduce the fiddle to a number of young people in that community. After his untimely passing on New Years' Eve, 2001, Stella and Kole's friend Lewis Beck decided to carry on Kole's musical legacy by teaching fiddle to the children and youth of Wrigley. Andrea Hansen helped them with their work and, out of their efforts, the Kole Crook Fiddle Association came into being. Now the KCFA is a going concern with a growing number of chapters in the Deh Cho and South Slave regions of the Northwest Territories, bringing the joy of fiddling to more and more northern children and youth as time goes on.
The Communities
The Northwest Territories is full of fiddlers, young and old. Contact the organizers in the communities to find out what's going on.
Fort Simpson (Doris Pellisey)
Wrigley (School)
Fort Liard (Roslyn Firth)
Fort Providence (Violet Landry)
Hay River (Linda Duford)
Kakisa (school)
Behchoko (Kathryn Walker)
Yellowknife (Gerda Hazenberg)
Fort Good Hope (Jayda Jackson)
Jean Marie River (school)
Gameti (school)
Trout Lake (school)

Hay River Reserve School  (Linda Duford))
Fort Resolution (School)
Don't see your community here?
If you have fiddling events happening in your area, send us contact information for everyone to find out more.
Board of Directors
President
Gerda Hazenberg
Vice-President
Kathryn Walker
Secretary
Linda Duford
Treasurer
John Hazenberg
Directors
Gerda Hazenberg
Kathryn Walker
John Hazenberg
Linda Duford
Dana Aneliunas
Violet Landry
Helen Edgar